Google Maps is an essential tool for many of us, helping us navigate the world around us. However, there might be times when you notice an error in Google Maps, such as an incorrect road. If you've ever wondered how you can notify Google about these inaccuracies, you're not alone. Here's a step-by-step guide on how to do it.
Understanding Google Maps' User-Based Updates
Google Maps encourages its users to help keep the mapping tool as accurate as possible. Any user can notify Google about changes such as closed roads, incorrect street names, or new establishments that need to be added. This crowdsourced approach helps ensure the tool remains updated and reliable.
How to Notify Google About Changes
Here's a step-by-step guide to notifying Google about changes or inaccuracies you've noticed on Google Maps.
1. Open Google Maps
Go to Google Maps on your computer or open the Google Maps app on your mobile device.
2. Find the Location
Enter the location that needs a change in the search bar and hit Enter or tap Search.

3. Select the Feature
Click on the feature you want to suggest changes to. It could be a road, an establishment, or other points of interest.
4. Suggest an Edit
Click on "Suggest an edit" or "Report a problem" (the option varies based on the feature and your device).
To access more options, you may right-click on the specific location of interest on your computer.
5. Choose an option
Pick the item you want to report from the list. There will be fewer options to choose from on your mobile device (screenshot on the right).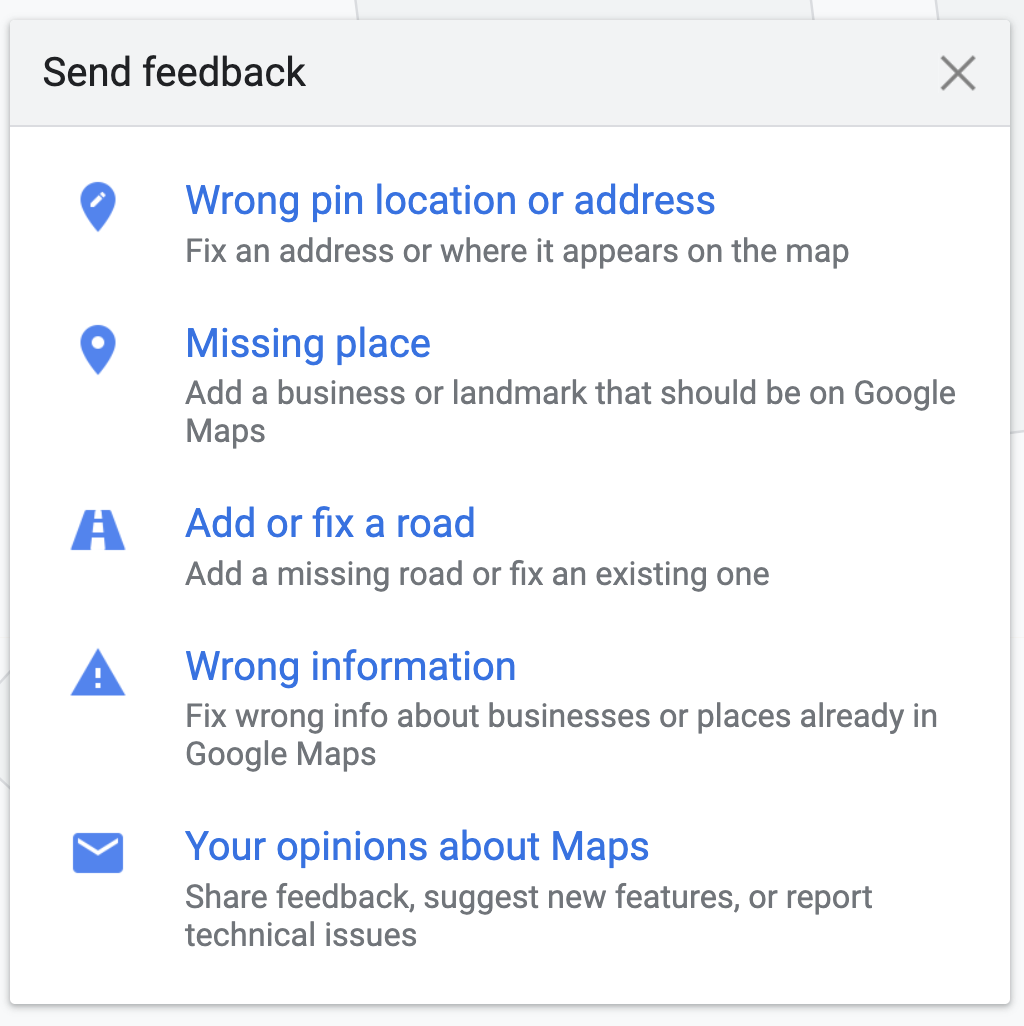 6. Fill in the Details
Fill out the form, explaining the changes that need to be made. The more specific you are, the better. It's important to provide as much detail as possible when reporting an error. The more information you provide, the easier it is for Google to verify and correct the mistake.
7. Submit the Changes
After you've filled out the form, click "Submit" to send your suggestions to Google. The Google team will review your suggestion, and if approved, the changes will be implemented. Note that it might take some time for the changes to appear on Google Maps, as they need to be verified first.
Importance of Updates for Businesses
Businesses can benefit greatly from Google Maps updates. An accurately represented business location helps customers find the establishment more easily. At Localyse, we assist businesses in making the most out of Google Maps, ensuring that their location data is accurate and up-to-date.
Need Help? Contact Localyse
If you're a business with multiple changes to make, or if you've tried the above steps and your changes still aren't appearing on Google Maps, don't worry – we're here to help. Our company, Localyse, specialises in helping businesses get their information correctly displayed on Google Maps.
Whether it's a single road change or a complete overhaul of your business's location data, our team of experts can ensure that Google Maps accurately represents the real-world information. With our help, you can avoid the frustration and time consumption of dealing with map inaccuracies and instead focus on what matters most – your business.
Don't hesitate to get in touch with us at Localyse for any Google Maps related issues. We're always ready to help you navigate the world of Google Maps.