Campercontact – Making motorhome travellers' lives easier by providing high quality location data
Campercontact is at the heart of a rapidly growing niche: more and more people want to experience freedom and a certain level of luxury. With Campercontact motorhome travelers can find approximately 40,000 overnight stops all over the world. Collected for and by its users this indispensable travel companion offers current information for each trip.

Keeping up with the continuous growth in the app market
Campercontact had been active for years prior to the current massive boom of the motorhome travel industry. In order to have a stable, future proof platform that can keep up with the continuous growth the app, website and backend were rebuilt entirely. Campercontact wanted to still offer high quality location data but with a better design and better performing processes.
Google Maps was chosen because it best provided a cross-platform, user-friendly and scalable solution with a proven track record. One that would easily be adopted by users. Localyse has been on board as a partner for years and helped implement it.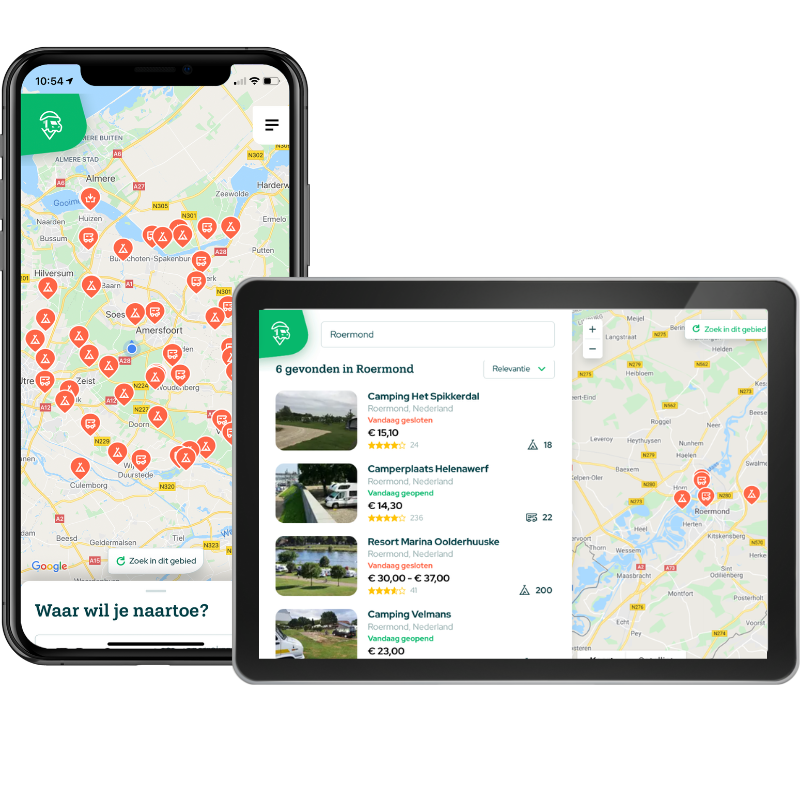 Implementing Google Maps made easy thanks to all available documentation
The core of the platform is to search and find motorhome sites. The UI is completely maps focused. Therefore the map technique had to be solid. The Google Maps documentation made implementation easy for the developers. The platform became more user-friendly which resulted in a 4,0 Google Play rating (coming from a 2,1). The amount of pageviews per session on web increased by an impressive 21%.
The new solution was released in September 2020, when Campercontact had 325,000 registered accounts. In 13 months that grew to 750,000 (+130%)! This lead to more user generated content: 72% more added reviews than last year, 58% more photos and 37% new motorhome sites. In August the website had 718,000 unique website visitors in a month, a record. Plus, app usage increased by 37% in one year.
The goals achieved by implementing Google Maps Platform:
Google Maps integration on Campercontact
Let's discuss your project
Looking for a way to make better decisions about your business's location-based strategies? Look no further than Localyse!