Prato – Ideal job dispatching based on travel time & distance
Prato is a Belgian company that offers innovative HR software and services. Clients include interim agencies, service cheque companies and enterprises. Prato helps with automation of payroll and personnel administration as well as well-founded social-legal advice. The company is part of geneHRations, a network of HR-tech entrepreneurs that implement innovative solutions and turn them into profitable business.

Among other HR tech solutions, Prato offers software for service voucher companies to automate the assignment of cleaning staff to households.
Service voucher companies employ cleaners and generate revenue via a voucher system set up by the Belgian government: They can redeem one voucher for each cleaning hour, regardless of the circumstances. In order to make a profit, these companies need to optimize the working hours of their employees for cleaning time to avoid long commutes and planning efforts.
To help these companies with their scheduling, Prato's software calculated travel times and distances for all employees. However, when their previous API provider's prices suddenly increased significantly, their entire product was at stake. For this reason, Prato's Technology Lead Tim Pijpops and Product Owner Daan Gielen asked Localyse for a new solution: Targomo came into play.
Sustaining a profitable product
Challenge: Sustaining a profitable product
Prato's solution for service voucher companies has been on the market for years, but it unexpectedly came into jeopardy: "The cost of our previous API provider suddenly skyrocketed, making our product virtually unsellable," Tim Pijpops explains. He turned to Localyse, which had previously supported his API implementation, in search of an alternative.
Solution: Quick & smooth transition to Targomo's API
Localyse proposed Targomo's Travel Time and Routing APIs as a cost-effective and powerful alternative. "Localyse's engineers came to our office and provided hands-on support in implementing the new technology, so Prato could continue to offer its product for a reasonable cost increase" says Daan Gielen. Travel time calculation is at the heart of Prato's product, as it is central to optimizing employee commute times. After extensive testing of the previous and new calculations, all of Prato's customers smoothly migrated to Targomo's API within a few months.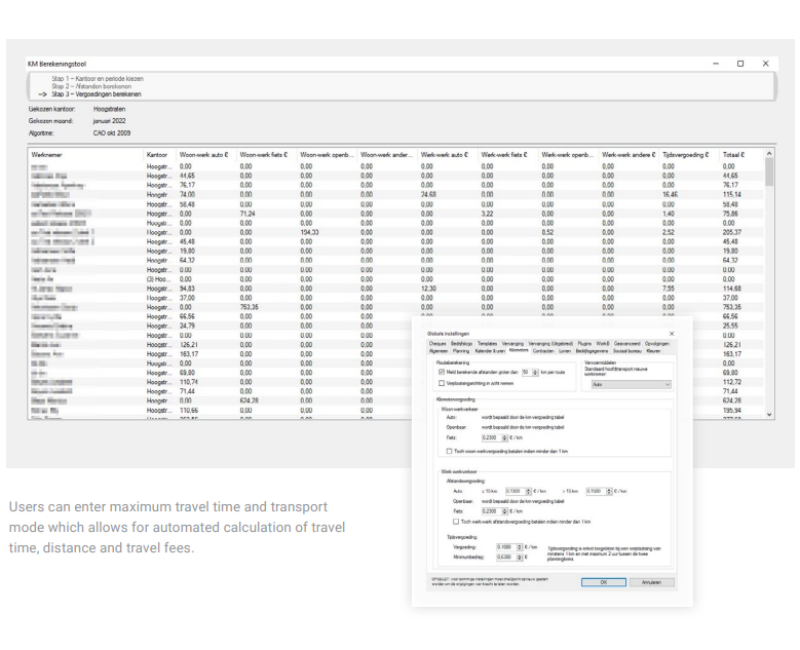 Employees use different modes of transport
Challenge: Employees use different modes of transport
Service voucher companies have to take into account that their employees in general prefer different modes of transportation to reach the households. They also have to be able to consider daydependent variations in the means of transport to still calculate correct data for the billing process.
An employee travelling by public transit will necessarily lead to other travel time calculations than the same employee travelling by car, and travelling by car during rush hour will take longer than outside.
Solution:
Travel times and distances are based on means of transportation
Once the relevant transport modes were defined, Localyse implemented Targomo's Travel Time API in a way that allows Prato's software users to customize their calculations: Per employee, they can set a standard mode of transportation (i.e. "car", "bike", "e-bike", "transit") and adjust it for specific days.
Targomo's API then automatically takes into account travel speed, possible routes, and in the case of transit, the public transportation schedules in order to produce accurate results. The service voucher company also has the option to visualize the route through Targomo's Routing API with a single click.
Profitable, cost-effective software product
Due to Targomo's competitive pricing, Prato can continue to offer an innovative and highly efficient software product to its customers: "Travel time calculations are at the core of our solution. Switching to Targomo's API really saved our product," Tim Pijpops acknowledges.
Scheduling within seconds
To Prato's customers, there is practically no alternative to fast and automated travel time calculations. Previously, everything had to be done manually, leading to an enormous overhead. "Our biggest client runs up to a million travel time calculations each month and gets results instantly," Daan Gielen explains. That's around 35.000 calculations per working day.
High accuracy
In the voucher service business, travel time and distance are relevant for payroll, so accuracy is key. Although the users of Prato's software have the chance to overwrite some automatically calculated values, this is nearly never done – a clear indicator for the reliability of the results. Gielen adds: "We as well as our customers benefit from the precision of Targomo's calculations, so we can trust in the data".
Let's discuss your project
Looking for a way to make better decisions about your business's location-based strategies? Look no further than Localyse!